Events you can find Allstacks speaking at
This month we have our VP of Engineering, Jamie Howard, on a panel at the State of Technology and Adam Dahlgren, our SVP of Product, giving a presentation at VSMCon. Here are the event details:
VSMcon 2022
Topic - Value Steam Intelligence keeps business and software leaders no longer "Lost in Translation"
Presenter - Adam Dahlgren
Date - Wednesday, May 11, at 2:10 pm CST
2022 State of Technology
Topic - Breakout Session B: Cloud Talent: Proactive Employee Retention
Panelists - Jamie Howard, Emily McBride, Kevin Robinson, and Jerry Tillman
Date - Thursday, May 12, at 11:15 AM EST
Allstacks hosted events
In May, we are kicking off our monthly webinar series. This month's topic tackles software engineering OKRs panel style with two of our leadership team and a representative from our partner GTMHub.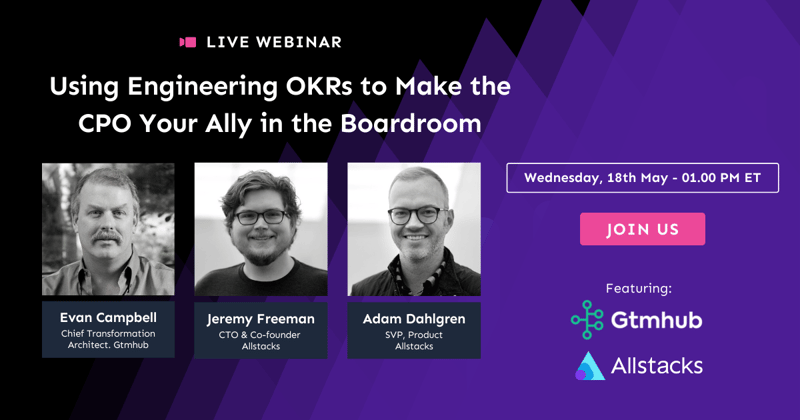 Webinar: Using Engineering OKRs to Make the CPO Your Ally in the Boardroom

Panlists: Adam Dahlgren, Jeremy Freeman, and Evan Campbell
Date: Wednesday, May 18, at 1:00 pm EST
In this 30-minute webinar, you will be listening in on an objective, honest conversation between Allstacks' CTO and Product leader and a GTMHub OKR expert as they talk it out on the following:
The business dynamics that drive misalignment in software organizations
Why it's challenging to use OKR frameworks in software orgs
How to implement engineering OKRs that translate development effort to value
Using Gtmhub and Allstacks enables you to visualize and automate OKR tracking
Will the Allstacks team see you this month at our webinar or one of the events we are partaking in? Don't be shy, reach out and let us know!

Get social with the Allstacks
Follow Adam, SVP of Product at Allstacks, on LinkedIn and Twitter and read some of his blogs:

Follow Jeremy, Co-founder and CTO of Allstacks, on

LinkedIn

and

Twitter

and r

ead some of his blogs:
Follow Jamie, VP of Engineering at Allstacks, on

LinkedIn

and

read some of his blogs