Today's engineering teams have to do more with less, all while aligning with the business side and avoiding employee burnout. It's a tall order, but one that's doable by choosing the right engineering analytics tool.
Luckily, many value stream intelligence options are available today, each with its own slightly different selling proposition. Let's start with Jellyfish, and then look at the five best alternatives.
What is Jellyfish Software?
Jellyfish is an engineering management platform that helps translate technical data into information the business side can easily understand. The Jellyfish solution wants to help teams put a dollar value on software development, tying engineering metrics to business goals.
Jellyfish integrates with commonly used tools across the development stack, including GitHub, GitLab, Jira, and other popular HR, calendar, and roadmap tools. The Jellyfish solution can be targeted to get insights into R&D capitalization, team health, engineering operations, and even DevOps metrics. Jellyfish excels in providing executive visibility into engineering work quickly.
Although the Jellyfish website stresses the customizable nature of its solution, customers have shared some struggles including tricky integrations (Jira, Okta), an inability to drill down to view individual team member activity, a UX that leaves more to be desired, and incompatibility with popular Agile processes like Scrum (data is tracked in weeks or months rather than sprints).
Given that Jellyfish has its downsides, we rated top Jellyfish alternatives. Here's how that list played out.
Jellyfish Alternative #1: Allstacks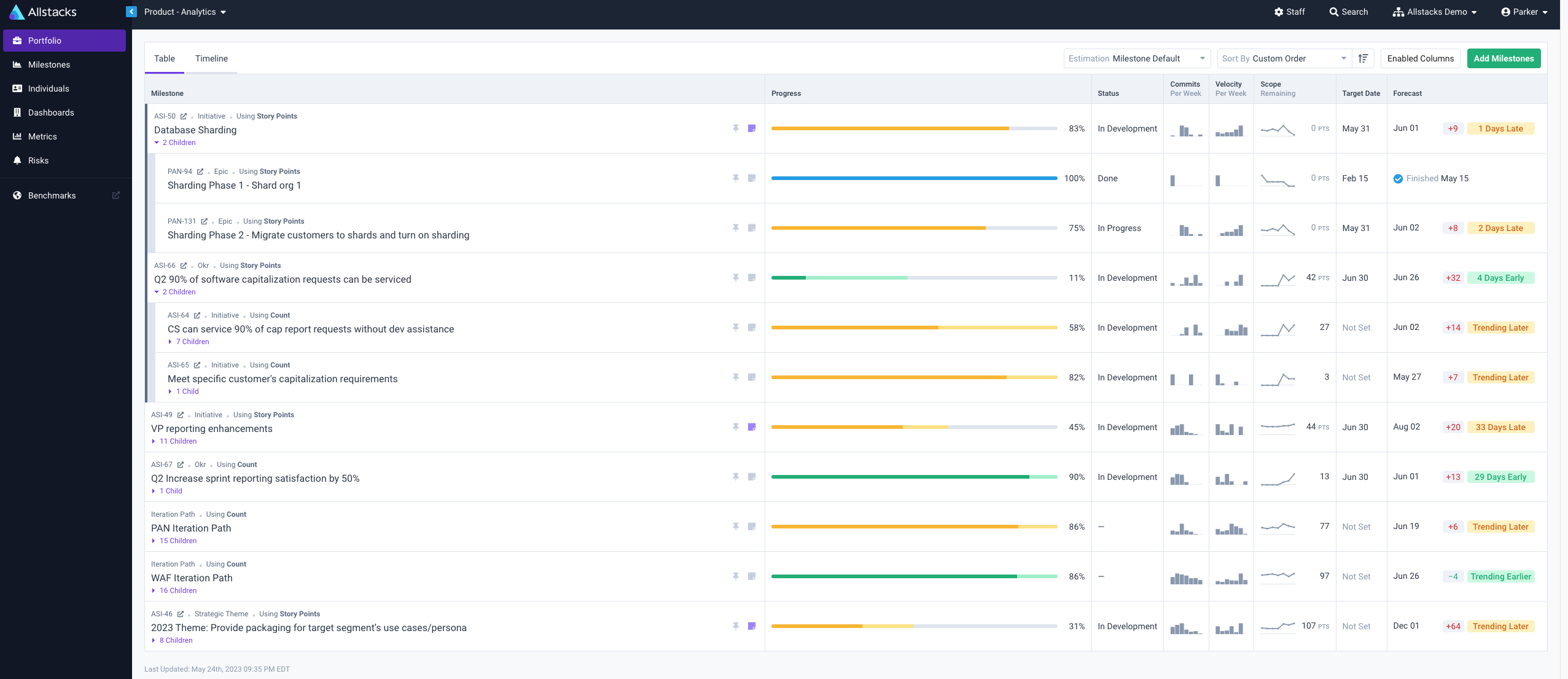 Easy to set up and dive into, Allstacks is the "just right" value stream intelligence tool (not too heavy and not too light) that brings developer metrics to life for engineering managers, the business side, and the entire organization.
Organizations and teams can get up and running with Allstacks quickly, typically finding value within 24-48 hours of the initial data connection as seen here, from Jason Massey, founder and CEO of ndustrial: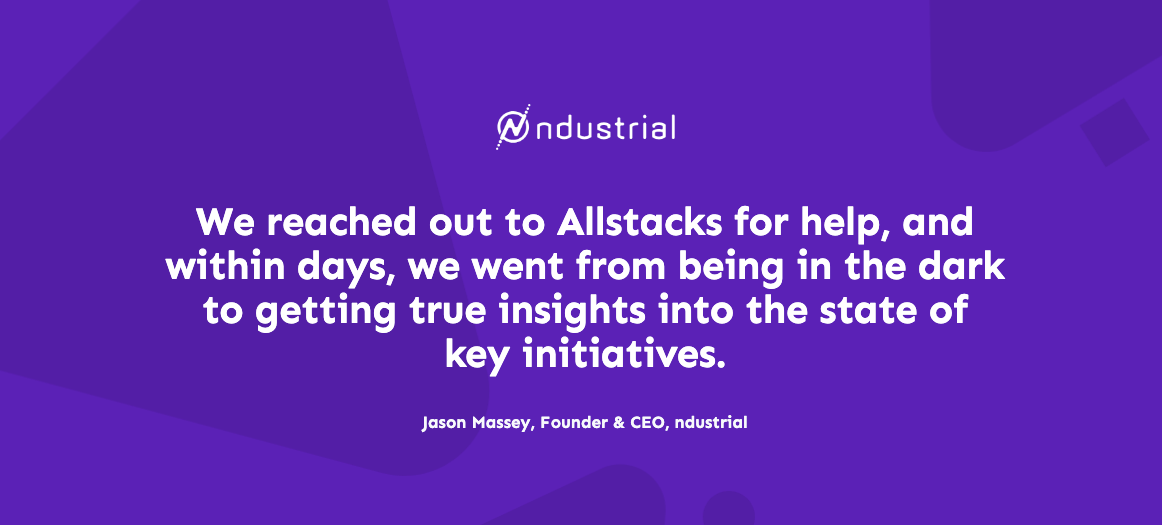 You can track your organization's performance using DORA, SPACE, and Flow metrics, create custom dashboards, align outcomes to what matters most to the business, and have all the answers to hard questions at the ready.
Allstacks integrates with your favorite dev tools like GitHub, GitLab, Bitbucket, Jira, Slack, CircleCI, Azure DevOps, and Jenkins.
The Allstacks platform also enables organizations to easily produce accounting-ready records of capitalizable software development work and keep compliant by providing automated, lightweight, reporting and complete visibility into software development costs.
With Allstacks, teams know exactly how they're delivering value and can visualize each component of the development process at an atomic level, but they can also reliably predict what to expect next, and this is where the magic happens. Allstacks machine-learning powered algorithms make it possible to accurately forecast and estimate, including the ability to reliably predict problems and problem areas even before anything goes wrong. Teams can predict, but they can also use the tool to analyze the software development lifecycle history, to add even more context to decision-making.
Ready to confidently forecast product delivery? Allstacks makes that a reality.
Jellyfish Alternative #2: Waydev
After Allstacks, organizations should consider Waydev, an analytics intelligence platform for software engineering. Waydev's unique spin focuses on tying the actual cost of software (as represented by salaries) to the code/features actually produced. The solution looks to bring data into Agile software development with options to look at project costs, activity heat maps, and more. Trams can create custom reports as well as time-sensitive risk alerts and even "burnout" warnings via Slack, Google Chat, and Microsoft Teams.
Waydev offers the opportunity for teams to compare their performance metrics against DORA, and to create reports that look at both detailed engineering metrics as well as the opportunity to map everything against business objectives.
Waydev does not currently offer the ability to forecast.
Jellyfish Alternative #3: LinearB
LinearB is a developer workflow automation tool that is focused on empowering developers to improve their productivity. LinearB looks at five parts of the development process: engineering efficiency, code quality, planning accuracy, data integrity, and how pull requests work. Teams can compare themselves to the DORA metrics, like several other solutions, as well as to standard engineering measurements such as cycle time.
A differentiating factor for Linear B is the Worker B, a bot devs can use to automate "annoying" tasks – like reminders to review a pull request – and thus speed up productivity.
Currently, LinearB does not offer forecasting, and customers have expressed frustration around data accuracy, insufficient data history, and not fully developed links between business and engineering metrics.
Jellyfish Alternative #4: Pluralsight Flow
Pluralsight Flow's goal is to "eliminate developer friction," and it's definitely marketed as a "people first" solution. Pluralsight Flow takes aim at team health, making the case that devs are happiest (and least likely to burn out) in a culture of continuous improvement and drastically reduced context switching.
Leadership is able to track items that can sometimes be elusive, like collaboration, by consulting the "Review Collaboration" tab, or seeing an individual developer's performance compared to the entire team and initiative. Teams have easy access to DORA as well as coding, review, and ticket metrics.
Pluralsight Flow integrates very closely with Git, which can be an issue for teams where devs work on private forks. Pluralsight Flow does not offer the ability to forecast.
Jellyfish Alternative #5: Code Climate Velocity
Code Climate Velocity is an engineering intelligence platform designed to streamline development processes and "build team trust." Teams can use the Velocity data points to create a positive coaching atmosphere and to help promote flow within distributed teams. Velocity has a Developer 360 feature that, paired with the DORA metrics, can help management identify bottlenecks and challenges at both the team and individual developer levels.
Code Climate Velocity does not offer the ability to forecast.
Choosing the right top Jellyfish alternative
As more companies look to give a voice back to engineering in the boardroom, turn data into actionable insights, and embrace a culture of continuous improvement, choosing the best solution for value stream management becomes an important piece to delivering software better, faster, and more predictably.
With unmatched configurability and customizability, ML-driven insights and forecasting, and a fast time to initial value, we encourage you to check out what Allstacks can do for yourself and let us know how we can help make achieving your goals a reality!