Improve alignment between engineering and the rest of the business
What do product stakeholders care about?
The company wants to understand if we are going to meet our goals and objectives.
Product wants to align product strategy to business objectives.
Engineering wants to reflect the state of affairs and show they deliver valuable outcomes.
But how do we connect output to outcomes?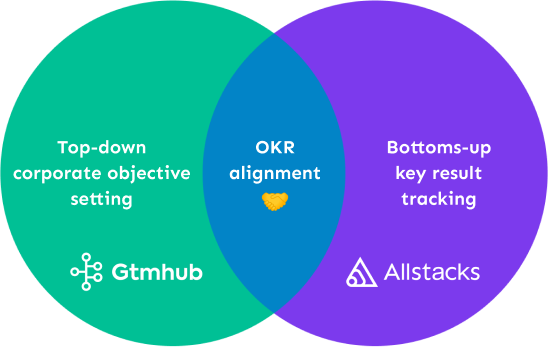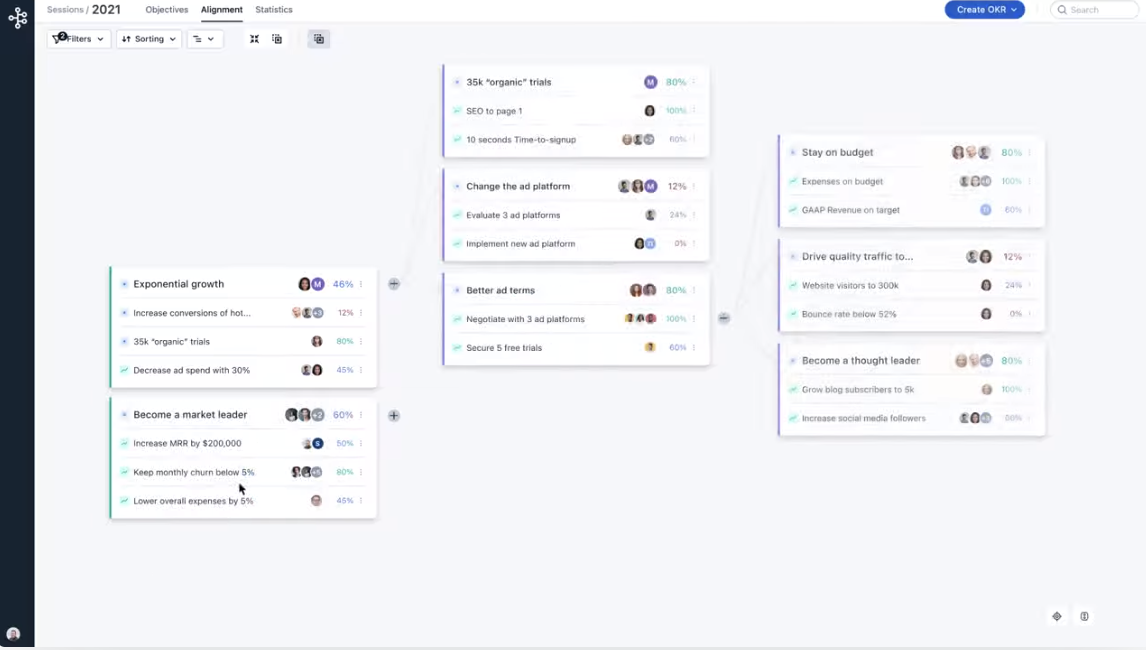 "Being able to easily connect Key Results to single or multiple objectives at different levels helps ensure our team is empowered to develop their OKRs while achieving alignment with overarching goals."
— Ryan, VP

From vision to strategy
The process starts with leadership modeling the high-level considerations from mission and vision to strategy definition.
Whiteboards, Sessions, KPIs, and intuitive design ensure leadership can quickly and comprehensively go from brainstorming to defining the strategy.
Configurable transparency ensures objectives are visible only to those who need it — when they need it.

Automatically track progress, forecast delivery dates, and identify risks to OKRs.
Allstacks eliminates manual OKR tracking by automatically linking the activity across the SDLC to engineering OKRs without changing behavior.
With the Portfolio Report, stakeholders can see if they will meet their OKRs within the target date and view the ML-driven forecasted completion date. If something is slipping, leaders can investigate which work impacts the success of the OKRs.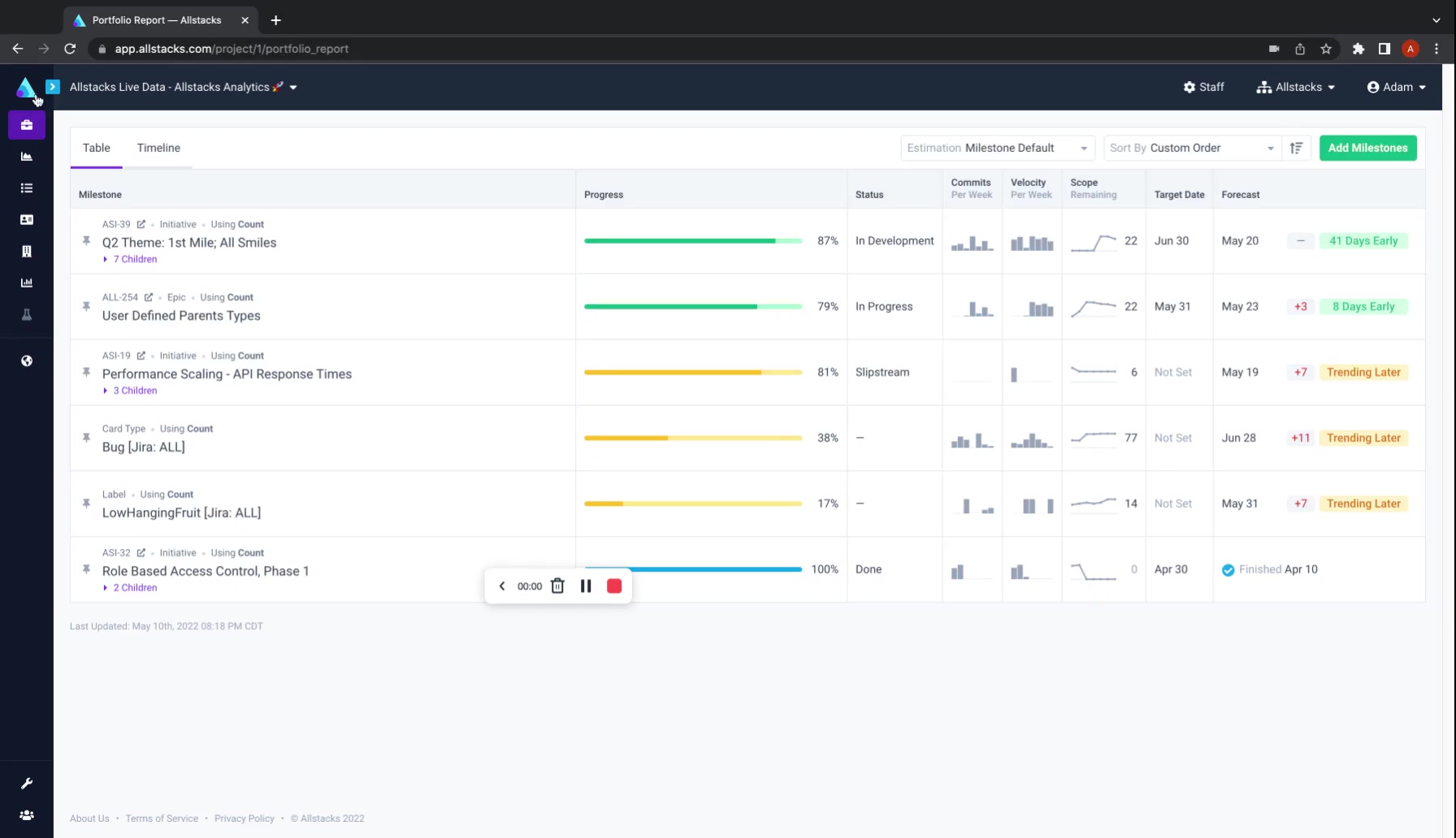 "We had little visibility into OKR tracking in our software organization and would scramble to complete them on time. Allstacks tracks our progress against our OKRs without any manual reporting. We've gained solid alignment between engineering and the business. The team is highly engaged in the success of our outcomes, which has positively impacted overall productivity."
Jim Moore, VP of Engineering, SailPoint
More Engineering OKR Resources
Ultimate OKR Playbook from Gtmhub
The Ultimate OKRs Playbook
Everything we've learned from successful OKR implementations at dozens of companies, distilled into a single Playbook.
Screen Shot 2022-05-17 at 1.12.29 PM
Getting Started with OKRs in Software Engineering
A how to find the value in implementing software engineering OKRs that tie directly to the organization's goals and objectives.
Engineering Industry Benchmarks
Engineering Industry Benchmarks
These Engineering Performance Benchmarks are real-time metrics from Allstacks' global population data set. You can use these metrics to compare your team's effort to industry benchmarks and set targets for your organization.
Gtmhub logo 2
Engineering OKR examples from the Gtmhub Marketplace
Browse and install Engineering OKRs from the Gtmhub marketplace like "Kill the bugs" or "Be fast, stable & reliable."
How to run an OKR Pilot
How to Run an OKRs Pilot
You have decided to use OKRs to achieve goals. This guide has what you need to adopt OKRs successfully.
Allstacks - Outcome-Based Engineering KPIs-1
How to Develop Outcome-Based Engineering KPIs
Engineering leaders should translate engineering activities into business outcomes. Here's practical advice on getting started with meaningful engineering KPIs.