The Industry Standard
SOC 2 Type 2 Certified
We are SOC 2 Type 2 certified. That means that a third party has audited how we safeguard our customer data, evaluated how well we protect that information, and has certified that we cover all principles of security, availability, confidentiality, and privacy according to the AICPA's Trust Services Principles and Criteria.
Additionally, our platform is hosted on industry-leading cloud hosting provider Amazon Web Services (AWS), offering the best data availability and performance. Please read our frequently asked questions below or contact us if you have specific questions about our security controls and practices.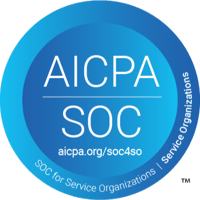 Enterprise-Grade Security for all.
No matter the size or type of business you run, you can have confidence in our enterprise-grade security practices. We take a proactive approach to addressing potential risks, applying improvements to our security practices and platform on a routine basis.
Frequently Asked Questions
What data does Allstacks store?
Allstacks allows users to connect to a wide range of popular developer and project management tools, such as Github, Bitbucket, Jira, and Clubhouse, to collect and analyze data on the Allstacks platform.
Allstacks reads and processes all activity from these sources, generates processed versions, and removes the raw data. To provide the most accurate depiction of your work patterns and help you identify issues throughout the entire development lifecycle, we use information such as commits, pull/merge requests, builds, issues, comments, and 17 other types of activities and events. To read more information about the data we store and how it is used, please review our Data Security Policies.
Can I request that my data be deleted?
Yes. You may request the deletion of your data at any time, and we will remove it from our systems within 30 days.
Is data encrypted in transit and at rest?
Yes. Allstacks uses and enforces SSL encryption for all user sessions and service connections, whenever it's supported by the respective service. We also encrypt all customer data at rest in databases, backups, and in all staging and production environments.
Is Allstacks' security tested by a third-party?
Yes. Allstacks conducts regular penetration tests and has completed our SOC 2 Type 2 certification for Security Trust Services Principles. The audit was conducted by Linford & Company, LLP, and found that Allstacks meets or exceeds necessary standards.
Who should I contact for more details?
Start Here.
Will your next release be late? Let us tell you. Your first 30 days are on us.
Get Started
No contracts and no credit card required.