Product managers walk a tightrope as they create powerful tools to solve sticky customer problems and are straightforward enough to quickly understand and deliver value early. At Allstacks, I found the best way to accomplish this balancing act is to leverage our core values. In this way, we make tools resonate with our customers to meet them and equip them to achieve their goals.
But how do you start building a values-guided roadmap from high-level planning to fine detail?
Every (product) journey needs a compass
It's essential to identify principles shared among your customers and organization and use those principles to guide your product development. In other words, there needs to be a compass – a set of operating principles that guide how to build software, communicate to the market, serve your customers, and relate to your colleagues at work.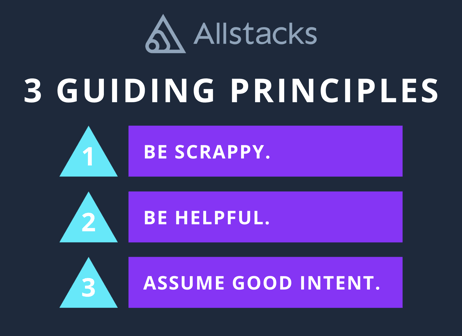 At Allstacks, the principles that drive our culture and products are:
Be scrappy.

Be helpful.

Assume good intent.
Each department in our organization has internalized these principles that are applicable to their teams. I'm going to dig into what each of these principles means for our product organization and how it guides product roadmap planning.
Be Scrappy
What does it mean?
At Allstacks, the startup spirit can be found at every turn, which often means the right solution takes creativity, and finding that solution requires staying agile and responsive. Being scrappy involves taking the path that meets the customer's needs, allows you to experiment within a strict budget, and iterate quickly. This means you must speedily identify and diagnose problems using the best available data, prototype a solution, and collaboration closely with your customer-facing and development teams.
How does it inform the roadmap?
Our scrappiness allows us to learn quickly, identify the right levers to pull, and ultimately create a product where our customers see the value Allstacks provides early on. Our scrappiness allows us to focus on high-value features and make informed decisions directly addressing critical business and customer needs. User research and analytics help guide our roadmap prioritization to make sure we build the things with the most significant potential impact.
Be Helpful
What does it mean?
Another guiding principle at Allstacks is to "be helpful." While this might seem obvious, it means something very specific at Allstacks. Being helpful means meeting customers where they are and helping them implement software development practices using data. Until now, getting access to that data in a meaningful way has been difficult. This is because software development is complex, and different engineering teams have unique workflows, which results in various challenges. Whatever the challenge may be — growing pains, team misalignment, decision-making challenges — Allstacks can help.
How does it inform the roadmap?
Engineering and product teams tend to be in a near-constant state of flux to improve existing processes. I can empathize with this challenge as my team often strives to become more efficient when planning, building requirements, and communicating with the business. We have incorporated user research and customer feedback sessions to map the details of our customers' challenges in our process. Ultimately, our roadmap commitments are evaluated and prioritized based on these discussions and the ability that each item will address our existing customers' needs and the broader market needs while moving the business forward. And while it's convenient to assume that all customer teams face the same problem as mine, I know that to "be helpful" requires empathizing with the nuances of our customer's problems.
Assume Good Intent
What does it mean?
Assuming good intent allows you to identify opportunities and not cast blame, which is essential for team alignment and conflict resolution so you can get keep work moving. Assuming good intent means that you think your customer teams are all walking in the same direction and want to see the team and/or organization succeed. This principle guides everyone at Allstacks to build empathy-based relationships with each other, our partners, and our customers. This opens up lines of communication that can lead to helping coach teams towards more effectively working together.

How does it inform the roadmap?
Allstacks is an inherently evaluative product because it uses analytics to make observations and recommendations. Our principle of good intent helps us develop features in a way that helps customers get the best out of the teams they have – not single out contributors for punitive action. When the data points out a potential issue, we want our customers to feel empowered to tackle this challenge. Knowing what information, variables, and human factors are involved in a problem changes the texture of the conversation.
Practical application of these principles in 2022
As we planned our 2022 priorities, we chose to emphasize the principle: Be helpful. Towards this end, we closely collaborated with customers while developing our roadmap and plan to continue this tight communication with customers to keep a pulse on our customers, provide timely support, and uncover areas of friction. Equipt with this context, we developed features that lower time to value for our customers. With the planned improvements this quarter, Allstacks is full steam ahead and aims to help faster.
Interested in more product perspectives?
Check out the three-part blog series featuring customer, Krishna Patel, Director of Product Development at Abrigo.
If product from an engineering lens is of interest read Checklist for Modern, High-Performance Engineering and Product Orgs.