Summer 2023 survey lauds ease of doing business with Allstacks and the ROI of the platform
Allstacks, a leader in value stream intelligence, announced today that it has scored more positive praise in customer surveys from G2, the world's largest and most trusted software marketplace. In the Summer 2023 survey, G2 customers awarded Allstacks two badges, giving the platform high marks as the easiest software company to do business with and best estimated ROI when using the platform.
"We continued to be honored by the high praise in customer recommendations and positive reviews from G2 clients who see the value in our platform," said Adam Dahlgren, COO and Head of Product, Allstacks. "Allstacks makes it easy to keep an eye on the status of your software across the entire SDLC so you can steer clear of roadblocks and deliver on time."
Allstacks earned the following badges from this latest G2 survey: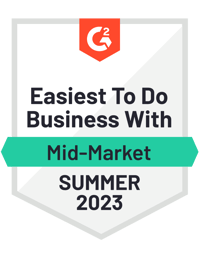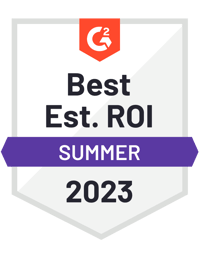 Easiest To Do Business With (Mid-Market)
Best Estimated ROI
The Allstacks platform provides predictive forecasting and risk management to software organizations in a way that is different from any other DevOps tool or value stream management (VSM) solution available. This one-of-a-kind product is based on a groundbreaking forecasting algorithm, using benchmark data to help companies predict what will happen during a software development project and when the work will be completed. This enables software leaders to effectively communicate with product stakeholders and align on business outcomes, increasing transparency and improving success.
"Rankings on G2 reports are based on data provided to us by real software buyers," said Sara Rossio, Chief Product Officer at G2. "Potential buyers know they can trust these insights when researching and selecting software because they're rooted in vetted, verified, and authentic reviews."
About G2
G2 is the world's largest and most trusted software marketplace. More than 80 million people annually — including employees at all of the Fortune 500 — use G2 to make smarter software decisions based on authentic peer reviews. Thousands of software and services companies of all sizes partner with G2 to build their reputation, manage their software spend, and grow their business – including Salesforce, HubSpot, Zoom, and Adobe. To learn more about where you go for software, visit www.g2.com and follow us on Twitter and LinkedIn.
About Allstacks
Allstacks is a predictive forecasting and risk management platform that improves software development outcomes. By running machine learning and AI models across the data from the entire software development lifecycle, Allstacks identifies at-risk initiatives and then provides solutions to get them back on track. For more information about Allstacks, visit https://www.allstacks.com/.