A complicated new tax requirement around how organizations handle software research and development capitalization has hit some teams hard and left many others confused and overwhelmed about the details.
At a time when development teams are being asked to move faster than ever before, there is little bandwidth or patience for finding and tracking metrics that aren't easily defensible or supportable. Engineering leaders spend too much time with auditors and finance while ignoring their day jobs, and developers are bristling over the potential that their work might be time-tracked.
It is possible to satisfy Internal Revenue Service requirements, stay compliant and even improve visibility, efficiency, and predictability, all while using data you already have. Allstacks' software capitalization offering allows organizations to easily produce accounting-ready records of capitalizable software development work and keep compliant by providing automated, lightweight, reporting and complete visibility into software development costs.
Try R&D Capitalization with Allstacks
Here's a brief primer on software R&D capitalization and how Allstacks can help.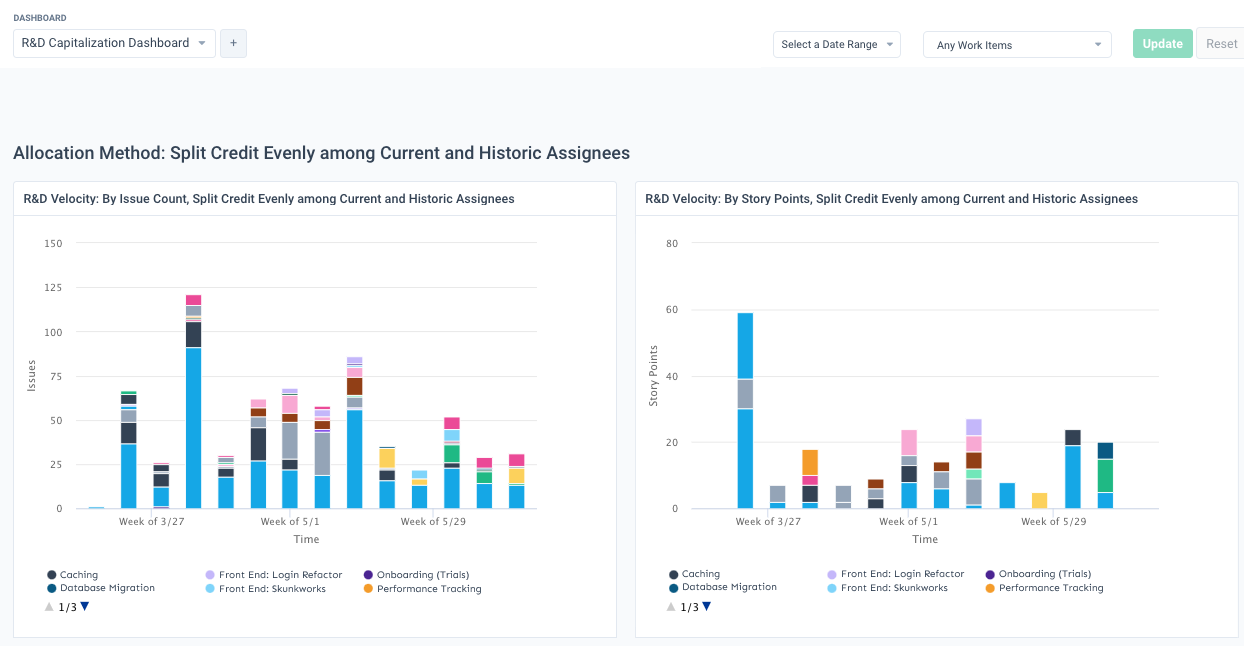 The changing status of R&D capitalization
Since the 1950s, the US Tax Code's section 174 permitted organizations to write off the costs of "qualified" R&D in the year the research happened. But in 2017, the Tax Cuts and Jobs Act made some sweeping changes to the laws, most significantly that, starting in the 2022 tax year, companies must spread the cost of R&D over five years (known as amortization) for US-based research and 15 years if the research and development took place offshore.
Making this more complicated is what the actual definition of "research and development" is by IRS standards. We're not accountants (so, please, consult your own financial and legal experts) but for software research and development, the only R&D that can be amortized is future work, not updating existing products or debugging, etc.
That's all a long way of saying that every company wanting an R&D tax deduction is going to be in the position of tracking development hours spent on future projects versus overall time spent…a potentially very tall order.
Why software R&D capitalization matters
Depending on company size, the changing tax rules will have different organizational impacts. Startups were particularly hit hard as they're naturally research and development focused and can no longer count on large yearly tax write-offs. But medium, large, and enterprise companies aren't going to want to overlook possible tax breaks which would free up money for headcount or other expansions.
The devil is in the details
So, regardless of size, organizations will need to pay close attention to time spent, work done, and investments made, and ensure all of this information is accessible, context-laden, and defensible to auditors and the IRS.
Oof.
Many organizations will require engineering leaders to spend countless hours untangling how development is done, because creating software is often far from a linear experience. Wouldn't it be ideal if there was a way to keep track of every detail using information already available?
And there is a way, using Allstacks and Jira.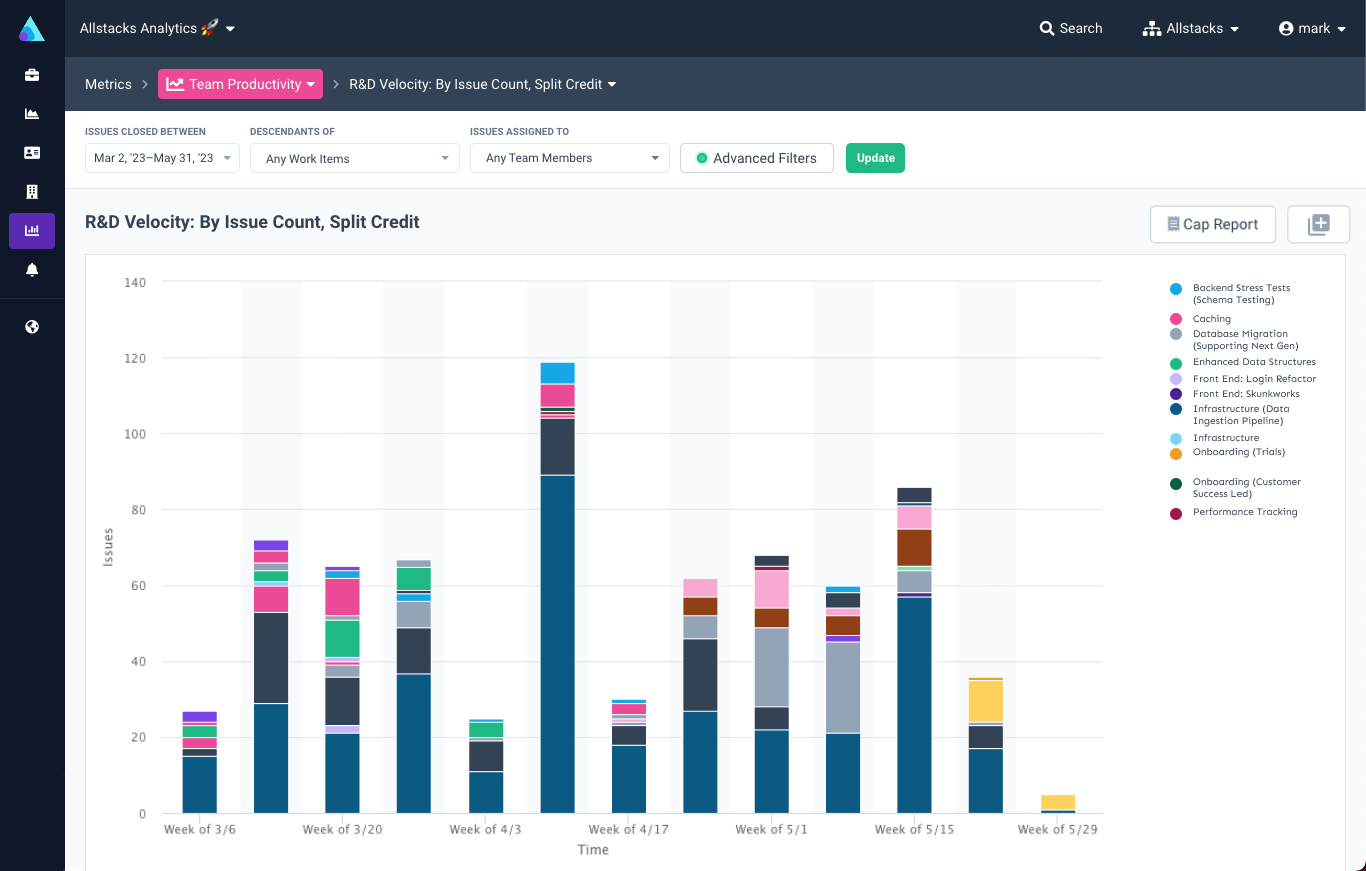 Allstacks streamlines software R&D capitalization tracking
Allstacks can take data from existing tools like Jira and generate a report on software R&D in five simple steps.
Make sure Jira and Allstacks are aligned, track all dev work in Jira, and create and use an R&D work label.
Sketch the outline of the R&D undertaking. Our "R&D Metric View" makes it possible to track partial work, while "Story Points" reflects tickets of different sizes. Don't forget to include a time period measurement, the R&D tag, and the correct Jira issue(s) and attribution. Finally, filter out extraneous stuff like "Won't Do" work.
Allstacks generates the report.
The engineering manager receives it in two files, making it easier to compare the data against other key metrics like salaries, budgets, or time spent.
Make sure the metrics are pinned to the dashboard.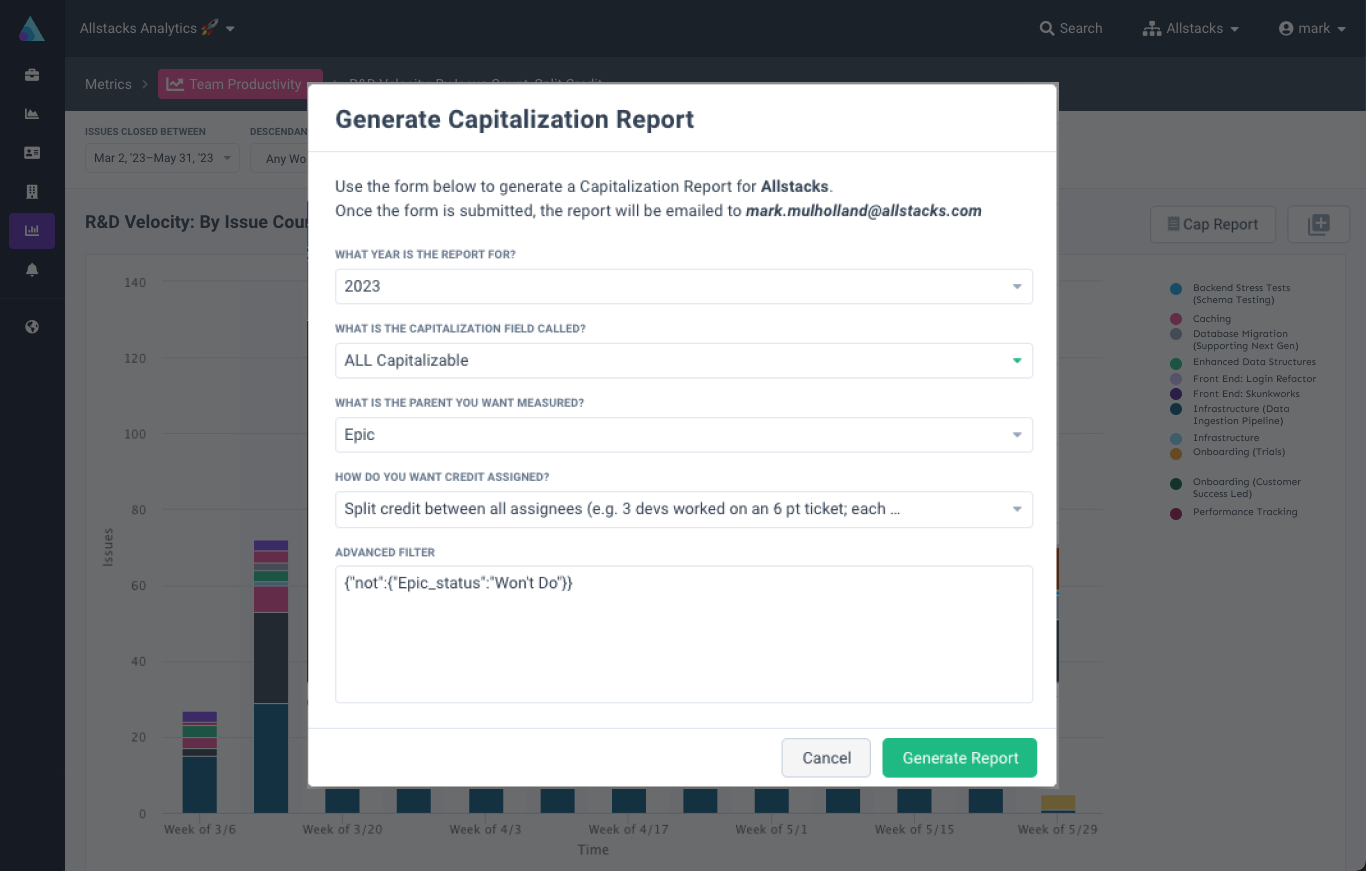 And that is literally all it takes - no time wasted, no profanity, no useless information.
Want to see how this could work for your organization?