Staying apprised of how your pull requests, commits, and cards change daily is critical for elite engineering teams, and the aggregate of that information can inform day-to-day decisions for data-driven executives.
Our team had first-hand experience agonizing over how hard it was to collect data for forecasting, benchmarking, KPIs, and translating that information into a presentable report for the boardroom. Specifically, we knew that:
Between tools like Jira, Bitbucket, and Jenkins, a ton of strategic engineering data gets lost.
Systemic engineering problems get buried under process.
Engineering leaders need to know when their projects are in danger and why, or if those are over-resourced.
Allstacks resulted as a solution to these problems—a simple package to a very complex problem.
But even with our dashboards and visualizations, our team quickly realized that it's unreasonable to expect our users to live in Allstacks. That's why, with this latest release, we've enabled Allstacks Alerts. With Alerts, engineering teams can define "Risks," or specific parameters for a team or project, and then define how they would like to be notified about those updates with applications they're already using: Slack and email. We'll also include Microsoft Teams in early 2023.
This release represents another leap in what's available to engineering teams to operationalize their reporting.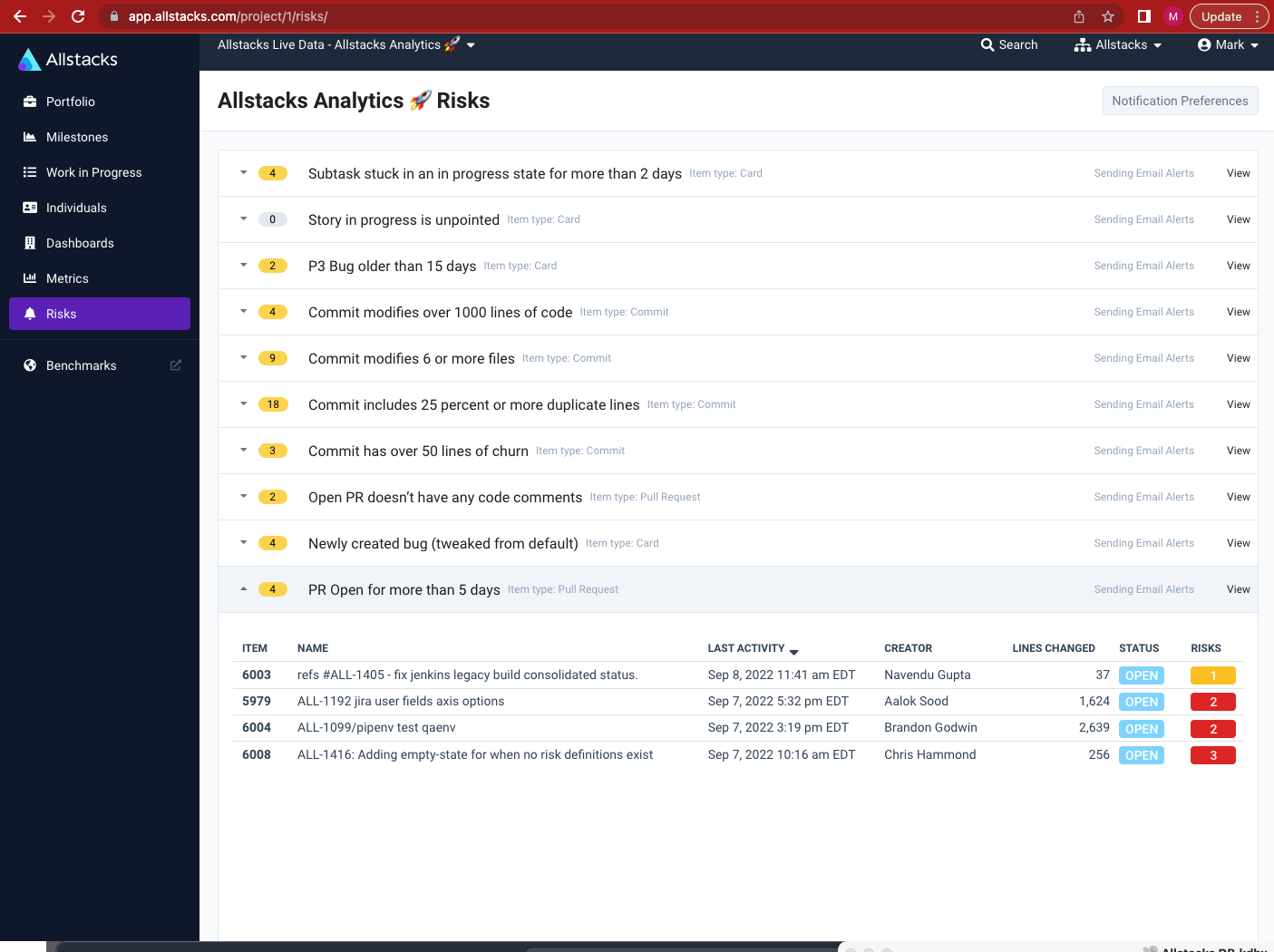 Allstacks Risks
What are Allstacks Alerts? What do they have to do with Risks?
Allstacks Alerts notify users when specific parameters are met. Those parameters, or "Risks," are set in the Risks part of your left-hand navigation menu.
With Allstacks Alerts, you can set notifications for any risk. By default, all teams start with 14 defined risks.
What risks can I be alerted about?
Because of the density of advanced filters settings, there are far too many alert configurations for us to cover in one blog post, so here are just a few:
A story has stalled in QA for over three days.
A commit has over 50 lines of churn.
A pull request has been open for four days.
Any issue bounced back.
An open pull request has more than 15 comments.
Operationalize your engineering data as it happens
We look to enable leaders to quantify how efficient and effective their engineering teams are to improve the quality and quantity of software delivery.
Getting this data from Allstacks into decision-makers' hands drove us to create an alerting system that extends beyond the platform to the places where users want that information and are primed to use it. This latest release keeps Allstacks on track to achieve its mission to enable better software faster.
We hope you love Allstacks Alerts as much as we do!